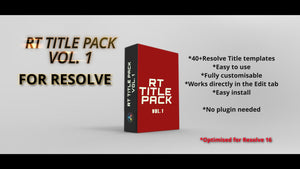 RT Title pack 1
40+ stunning text presets fro Resolve.
Works directly in Resolve edit tab
Easy install
Fully customisable.
Optimised for Resolve 16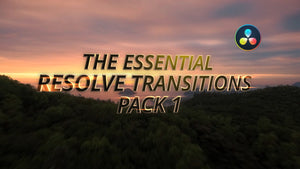 Essential Resolve Transitions pack 1
This transition pack contains 50+ carefully created transitions for Blackmagic Davinci Resolve which otherwise are not available originally in the software.
It includes transitions like Swish pans ,spins, rolls and glitches.
This transition pack makes it easier and faster to achieve sought after special video transitions inside of Davinci Resolve/Fusion without requiring any external plugin.
**(This is not the adjustment layer type transitions)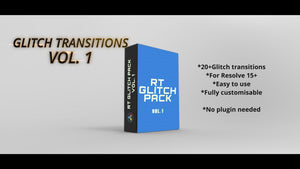 Glitch transitions pak 1
A collection of 20+ glitch transitions for Davinci Resolve 15+.
Easy to use and customizable
No plugins required
**(Note: This is not the adjsutment layer type transitions)
FAQs
How will i receive my products?
Ans: After you complete your purchase, you will receive an email with the download link. Make sure to provide us with an accurate email so that we send it to the correct buyer.
Are instructions Included ?
Ans: Yes. Your download includes instruction text/video as well as how to add the presets to your Fusion template.
Does it work with the free version of Resolve?
Ans: Yes it does, however some specific presets types in the pack that uses tools not available in the free version may not work.
Do you offer refunds for purchases?
Please see our refund policy
Still got questions ?
Feel free to send us an email or use our contact form.